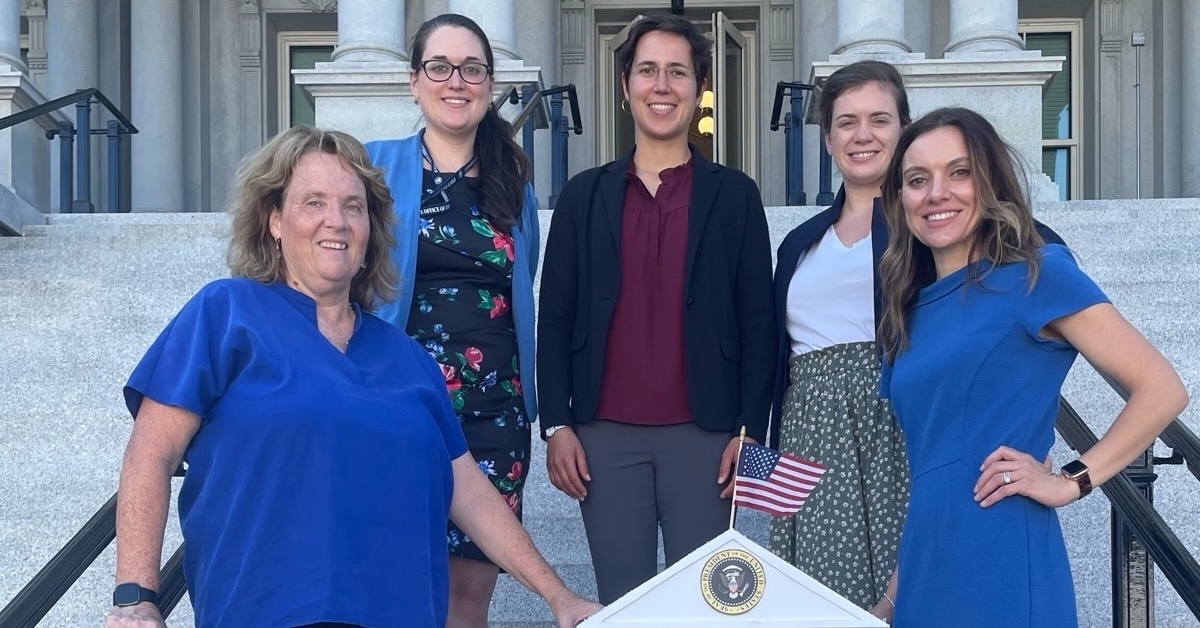 UC San Diego professor showcases air filtration ventilator at White House to help fight COVID-19
Content of the article
A renowned atmospheric scientist from the University of California, San Diego recently brought an innovative gift and action-oriented message to our nation's capital. Kimberly Prather, Distinguished Chair in Atmospheric Chemistry, presented a Corsi-Rosenthal box, a unique invention developed by a multi-campus, transnational team of students and scientists, to the House's Office of Science and Technology Policy White on September 9, 2022.
"It's a simple, effective, inexpensive solution available to anyone," said Prather, professor emeritus at UC San Diego's Scripps Institution of Oceanography and Department of Chemistry and Biochemistry. "The CR Air Filtration Box is a low-cost innovation comprised of readily available parts that can effectively help reduce the transmission of COVID-19 simply by cleaning the air. Anyone who can make a package to ship can make one "It empowers students and families to build their own. I'm honored to be part of this effort to address some of our most pressing indoor air quality and public health needs."
A Corsi-Rosenthal air filtration box consists of a box fan, tape and MERV-13 filters. It is shown to reduce the spread of the SARS-CoV-2 virus in the air and can filter the air for up to six months. Last fall, Prather led an effort to build 250 do-it-yourself CR boxes to use on campus as as part of UC San Diego's Return to Learn initiativethat implements state-of-the-art solutions and recognized best practices to enable safe in-person learning.
The CR box was presented at the White House by Prather and her colleague Marina A. Creed, a neuroimmunologist and MS nurse practitioner at the University of Connecticut. Dubbed "Air Force One," the gifted unit was built by fifth-grade students from the Noah Webster MicroSociety Magnet School in Hartford, Connecticut.
"The evidence is clear: clean indoor air leads to healthier and happier students. We're excited to hear more about how these students are putting this evidence into action to benefit their community," said Dr. Erica Kimmerling, Senior Advisor for Public Engagement in the Office of Science and Technology Policy at the White House. "The 'Air Force One' air filter will not only help provide clean air to the staff of the White House Office of Science and Technology Policy, but it will also be a great conversation starter to help pass the word on ways people can improve indoor air quality."
Earlier in the week, Prather gave a guest lecture about her efforts to help safely reopen the San Diego Unified School District in the national strategy for improving indoor air quality, a conference organized by the Center for Health Security at the Johns Hopkins Bloomberg School of Public Health. She has been widely recognized for her work on emissions, pollutants and climate and has been elected to the American Philosophical Society earlier in the year.
"As a society, we now recognize the importance of putting the best science to work to solve indoor air quality issues today," Prather said. "Many exciting innovations have emerged in the past two years alone. Once it is clearly recognized that the virus is airborne, it becomes a very fixable problem. People will shift from cleaning surfaces to cleaning indoor air where we spend 90% of our time. This has huge positive ramifications for health beyond COVID-19 by reducing the spread of all airborne pathogens, pollutants, including smoke from wildfires, and other aerosols. causing asthma.