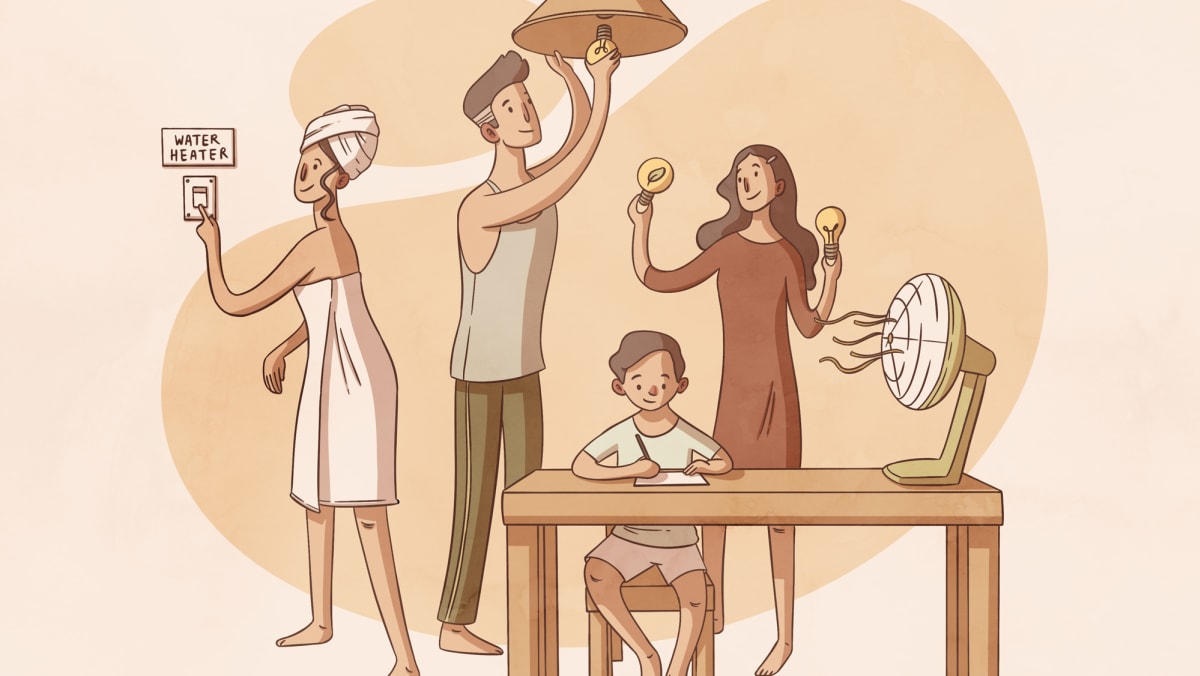 The big read: As households grapple with soaring electricity prices, being eco-friendly can also be kind to your wallet
For landed properties, the existing roof material and the angle it is at can make installing solar panels expensive, dangerous and inefficient.
Mr Prasath said: "About 30-40% of homes that inquire are unable to fit the panels.
"Some roofs have tiles that are glued directly to them, so it can become unsafe for us to remove some tiles and place our solar panel mounts on top. This could compromise the integrity of the roof.
He added that roofs that are at a 45 degree angle or have projecting windows would not be suitable for solar panels.
For condominiums, owners wishing to install solar panels will need to obtain approval from their management committees – commonly referred to as Management Corporation Strata Title, or MCST – and authorities, and the go-ahead is given on a case-by-case basis depending on various factors.
Both Mr. Prasath and Mr. Goh said their companies had received requests from condo owners wanting to install solar panels, but had encountered difficulties obtaining the necessary approvals.
Condominium owners surveyed said that even if they manage to get the go-ahead from their MCSTs to install solar panels, they don't know if authorities require additional approvals.
Approvals aside, cost savings for condominium owners are also limited as they are not eligible to sell excess electricity to the national grid.
Their apartments must also be located on upper floors with access to the roof belonging to them and where there is sufficient sunlight to generate electricity.
Mr. Prasath added that another obstacle is that condominiums often use sub-metering, which allows condominium owners to track their individual consumption.
"Solar panel systems require testing and commissioning by SP Group before they can be connected to the grid, which (SP Group) only does for buildings connected to main meters such as (land houses) and private industrial buildings," he said.
The SP group did not respond to questions today.
For HDB apartment owners, their options are even more limited because solar panels not only take up space, but also require direct sunlight to generate a significant amount of electricity for home use.
In 2020, an HDB resident made headlines when he installed solar panels – said to weigh between 10 and 20 kg – on top of a clothes airer and air conditioner.
HDB then told the media that such installations outside apartments are not permitted as they may affect the structural integrity of the building and may pose a risk to the public. He also recalled that installations outside an apartment are prohibited unless authorized by the municipal council.
Dr Chua of NTU's Economics Division noted that upper-floor households can still harness solar power in limited ways, such as hanging small solar panels from their windows and using them to power their cell phones. or their laptops.
Smaller solar power generators are also readily available in the market. Such generators can cost from several hundred dollars to a few thousand dollars.
Mr Goh of UTICA, which sells such products, said they are usually purchased by hikers and campers looking to harness solar power outdoors. Some residents have also purchased these generators to place on their balconies to power their mobility devices and other gadgets at home.
As part of a government initiative to harness solar energy, HDB has so far installed solar panels on around 2,700 blocks and plans to reach 8,400 blocks in the "next two to three years". In total, this will produce enough electricity to power 95,000 four-room apartments.
On how these panels will benefit residents, the Ministry of National Development (MND) said in a written parliamentary response on January 10 that the energy generated is "first used to power common services in HDB housing estates, such as as elevators and lights", and all excess solar energy will be routed to the national grid.
"The town halls that manage these HDB blocks will enter into a service agreement with the solar seller to pay for the solar energy consumed, at a preferential rate not higher than the retail electricity rate," added the MND. "This can help city councils mitigate the rising cost of energy."
HOW TO SAVE ON YOUR ELECTRICITY BILLS
For now, there remain significant limits on how individual households can turn to renewables as an alternative energy source.
Nevertheless, consumers can still take matters into their own hands in terms of reducing their electricity consumption.
For example, Ms Valerie Khoo, a 27-year-old wealth management consultant, said she did not use a fan or air conditioner on cooler days, but instead left her windows open at night while she was sleeping.
"With the price (of electricity) going up, we have been a bit more conscious and my mum nags us more about not using the air conditioner unless it is really too hot," a- she declared.
Her family of four spends about S$120 a month on electricity for their five-room apartment. As well as making sure they turn off the lights when not in use, they also chose a twin-tick fridge – the highest energy rating available for their nearly 650-litre fridge when purchased in 2018.
Besides her parents and her younger brother, Ms. Khoo lives with the two family dogs. Food for her dogs takes up half the space in the freezer, she said.
The National Environment Agency's (NEA) tick mark system rates the energy efficiency of appliances, with five ticks being the most efficient and one tick being the least efficient. This is indicated on the energy label, which also tells consumers the annual energy cost of the appliance.