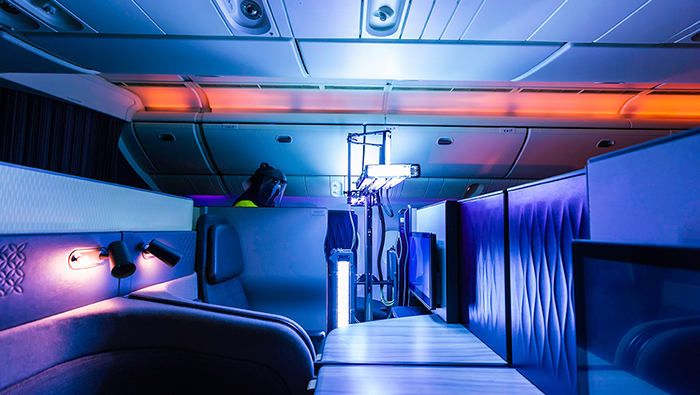 Qatar Airways Introduces Latest Version of Honeywell's Onboard Ultraviolet Cabin Disinfection Technology
[ad_1]
Doha: Qatar Airways becomes the first global carrier to operate Honeywell's version 2.0 ultraviolet (UV) cabin system, thus strengthening its on-board hygiene measures.
The latest version of the Honeywell UV Cabin System, owned and operated by Qatar Aviation Services (QAS), has been introduced to add flexibility, improve reliability, mobility and ease of use over its predecessor, with wings Extensive UVs that treat both and large areas on board, reducing overall disinfection time.
This version also includes a manual wand that disinfects areas like the cockpit and other smaller spaces and is non-motorized, reducing battery consumption. In clinical tests, UV light has been shown to be able to inactivate various viruses and bacteria when properly applied.
After receiving 17 units of the latest version of the Honeywell UV Cabin System V2, the devices have all undergone comprehensive testing on Qatar Airways aircraft. The airline aims to operate them on board all aircraft rotations at Hamad International Airport (HIA).
Qatar Airways Group Managing Director Akbar Al Baker said: "As the world's first airline to operate the latest version of the Honeywell UV Cabin System V2 on board our aircraft, it is significantly more user-friendly and technologically advanced. QAS continued to keep our service flawless during the COVID-19 outbreak, in particular by supporting repatriation flights and the increased cargo workload.
As the first global airline in the world to achieve the prestigious 5-star Skytrax COVID-19 airline safety rating, the first airline in the Middle East to begin testing of the innovative new IATA Travel Pass 'Digital Passport' mobile application , and most recently, the first airline in the world to operate a flight with a fully vaccinated crew and passengers – it is in our hearts to be continuously at the forefront of innovation and to continue to implement the last safety and hygiene measures on board and on the ground. "
QAS continues to uphold its world-class processing standards and long-standing relationships with all airlines, and, with HIA, ensures a safe and smooth journey for all passengers. Qatar Airways planes will continue to be regularly disinfected using cleaning products recommended by the International Air Transport Association (IATA) and the World Health Organization (WHO). The latest version of the Honeywell UV Cabin System V2 will be used as an additional step after manual disinfection, to ensure the highest standards of cleanliness.
Linens and blankets aboard the airline will continue to be washed, dried and pressed at deadly microbial temperatures, while its helmets are rigorously sanitized after every flight. These items are then sealed in individual packages by staff wearing hygienic disposable gloves.
Qatar Airways aircraft also feature the most advanced air filtration systems, fitted with industrial-size HEPA filters that remove 99.97% of viral and bacterial contaminants from recirculated air, providing the most effective protection against infections.
On board, all Qatar Airways passengers receive a free protection kit. Inside a ziplock pouch, a single-use face mask, large powder-free disposable gloves, and alcohol-based hand sanitizer gel are offered. Business class customers also receive an additional 75ml tube of disinfectant gel. Additionally, for aircraft equipped with Qsuite, Qatar Airways' award-winning business seat, Business Class customers enjoy even greater privacy with sliding partitions and fully-closing doors, and an option to view a "Do Not Disturb (DND)" indicator if they wish to limit their interactions with cabin crew.
HIA, the airline's hub in Doha, has also introduced UV-C disinfectant robots which are fully autonomous mobile devices emitting concentrated UV-C light, and are deployed in areas with high passenger flow to reduce the spread. pathogens. In addition, HIA has strict cleaning procedures in place and implemented social distancing measures in all of its terminals. All passenger touch points are disinfected every 10 to 15 minutes and each boarding gate and bus counter are cleaned after each flight. Hand sanitizers are provided at immigration and security checkpoints.
[ad_2]