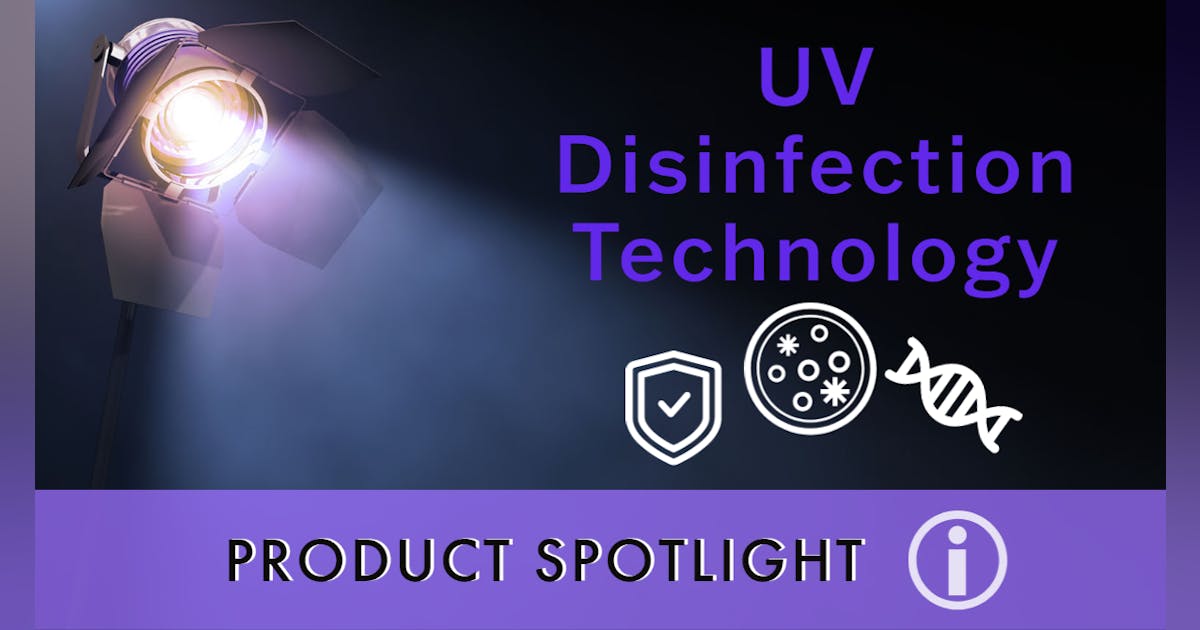 Product Spotlight: UV Disinfection Technology (MAGAZINE)
LED magazine continues to investigate ultraviolet (UV) emitting offerings on the market that are shaping air and surface disinfection applications as well as water purification. In addition to LED-based products and applications, we include cutting-edge technologies incorporating other UV sources as they will continue to illuminate improvements in LED performance, cost and efficiency requirements, l evolving industry standards and test/measurement best practices.
COMPILED BY CARRIE MEADOWS
GLO, UV Resources
The open style GLO (Germicidal Light Overhead) UV-C fixture offers upper chamber disinfection for high ceiling areas via two models: GLO 900-OF (25W lamp/372mW radiant output) to treat up to 900 feet2 and GLO 1500-OF (36W lamp/625 mW radiant power) up to 1500 feet2. A parabolic aluminum reflector reduces internal UV energy loss, optimizing UV germicidal irradiation (UVGI) for 24/7 disinfection of airborne bacteria, viruses and mold spores. An adjustable guide protects occupants from UV exposure.
PearlAqua Tera, AquiSense Technologies
The fully enclosed, LED-based PearlAqua Tera system disinfects municipal and industrial water supplies with flow rates up to 2 MGD (million gallons per day). Custom designs accommodate different flange sizes and can be fitted with one to three UV-C LED lamp arrays in a replaceable module. PearlAqua Tera provides online UV intensity monitoring, instant on/off and variable power on demand. CE and RoHS certified systems are manufactured in an ISO 9001:2015 facility in the USA
OhmniClean, OhmniLabs
58 lb OhmniClean robot sanitizes up to 3,000 sq. ft.2 areas in 15 minutes using 254 nm low pressure mercury lamps. Cloud-based mapping software assesses room layout and enables self-disinfection when space is unoccupied. Safety features include timed setup before initiating a cleaning cycle, motion sensors, remote switches and warning displays during operation. The software generates a disinfection report at the end of each cycle and shuts down. Interchangeable batteries, modular parts and multiple service/rental options support cost and fleet management.
Tour and Traveler nUVo, Energy Focus
UV-C air disinfection goes portable with nUVo Traveler and sanitizes the air in small spaces with nUVo Tower (shown). Traveler and Tower have been independently validated through Intertek microbiological testing to reduce between 94.1% and 99.9% of airborne mold, bacteria, and viruses in 30 minutes in spaces up to 100 feet.3 and 1,000 feet3, respectively. The 254nm quartz lamp design eliminates costly filter replacements and releases no smoke or chemical odors. The lamp is specified for 10,000 hours of use (approximately 3 years at 8 hours of autonomy per day).
Nautilus and Muwaiji, Air~Lume by Trinity Lighting
Nautilus and Muwaiji (shown) use 265nm UV-C LEDs and fan-induced airflow for germicidal applications in the upper chamber. Nautilus consumes about 3.2W and Muwaiji 2.4W for energy efficient operation. LEDs are hidden to prevent UV exposure. The fluence exceeds 10 µW/cm2 at 3m for both models. For comparison, Innovative Labs testing of a 25W mercury lamp-based disinfection system demonstrated inactivation of aerosolized coronavirus with a fluence rate of 4 µW/cm2 in a 3m2 bedroom.
Kepri, Excelitas Technologies
Kepri superior air disinfection units use three types of sensors to monitor active and occupied spaces. Tilt sensors monitor the direction of UV-C emission and instantly stop UV system operation if the emission field stabilizes below the 0° threshold of the level horizon. Motion and presence detectors detect people entering or remaining in the emission field and switch off the device until the emission field has remained clear for 15 minutes. Selective operating modes include always on, only on when occupied, or only on when unoccupied.
CARRIE MEADOWS is Editor-in-Chief of LEDs Magazine, with over 20 years of B2B publishing experience in technology markets including semiconductor technology manufacturing, fiber optic communications, machine vision, lasers and photonics , as well as LEDs and lighting.
---
For last minute LED and SSL updates, why not Follow us on twitter? You'll find curated content and commentary, as well as information on industry events, webcasts and surveys on our LinkedIn company page and Facebook page.