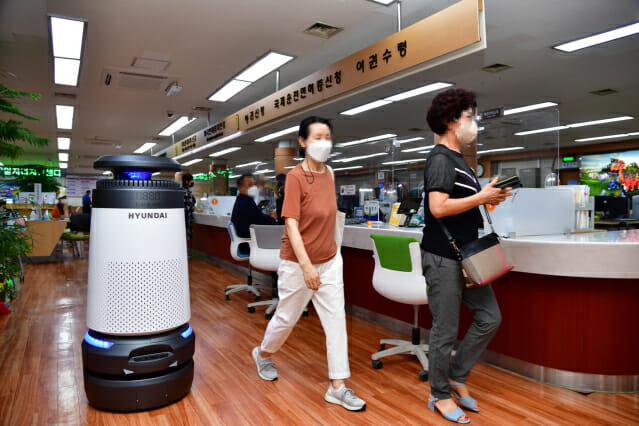 Hyundai Robotics deploys face-to-face disinfection robot
SEOUL, July 1 (Korea Bizwire) — Hyundai Robotics Co., South Korea's largest industrial robot maker, announced on Thursday that it will launch an innovative disinfection robot that enables face-to-face disinfection.
The newly developed robot uses plasma sterilization, a method that has been used for surgical instrument sterilization in hospitals, to sterilize the air, while performing floor sterilization using ultraviolet-C (UV) LEDs -C) installed on its underside that allow face-to-face disinfection.
The existing disinfection robots on the market generally spray disinfectants harmful to humans, while only limited to remote disinfection since UV-C lamps causing skin diseases are installed in the front.
Hyundai Robotics' disinfection robot eliminates various harmful bacteria through its internal plasma sterilization and emits purified air from a vent at the top.
Mounted with eight different types of sensors, it can detect ultrafine dust and organic chemical compounds in the air and intake and purify them through three-stage filters.
The robot can disinfect an area of ​​152 square meters without moving and can also work in autonomous mode. Accordingly, it can carry out disinfection work in halls and corridors of buildings where it is difficult to install air purifiers and sterilizers.
Kevin Lee (kevinlee@koreabizwire.com)