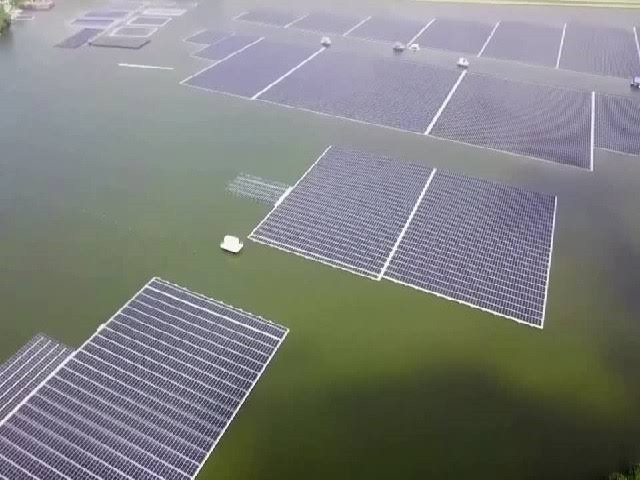 Government eyes solar power as solution to electricity crisis
ISLAMABAD:

Energy Minister Engineer Khurram Dastgir announced that Prime Minister Shehbaz Sharif will unveil a new comprehensive solar power policy on August 1 to curb prolonged power outages and curb rising solar prices. 'electricity.
Addressing a press conference on Thursday, the minister said the Prime Minister had received a comprehensive first briefing on solar energy.
Under the policy, he said, seven solar power plants would initially be installed on the sites of existing thermal power plants, where land and transmission lines already existed for electricity.
He said the contract for the installation of solar power plants would be awarded to the lowest bidder after an open bidding process, adding that there was a proposal under consideration to install 1 MW solar power plants. in small supply areas across the country, which would help generate 2,000 MW of electricity in the first phase.
"All government offices and buildings will be converted to solar power, and the Parliament will serve as a model," he said, adding that the Parliament has saved millions of rupees a year in terms of electricity.
He said tube wells would also be converted to solar power across the country. Diesel powered tube wells in Balochistan would be given top priority.
Dastgir said the plan also included the distribution of one to three kilowatt solar panel modules to residential customers, the cost of which would be recovered from electricity bills.
The minister hoped that all these projects would add 7,000 MW to 10,000 MW of electricity to the national grid system before next summer.
Lily Sindh government plans to launch floating solar power project
According to him, hydel power generation from the Tarbela dam has further increased due to an increase in water inflow, and it is now over 3,800 MW. He added that after the maintenance, the Lucky Coal Power Plant also resumed operations.
Once its refueling is complete before Eid, the K-2 nuclear power plant will also start supplying 1,100 MW to the national grid, he added.
The Minister also affirmed that load shedding would decrease significantly in the coming days. In major major cities, less load management has been implemented, he added.
To a question, he said that the damage to the tunnel of the Neelum-Jhelum hydropower project was being assessed.
On another question, he said that transmission lines are being installed in Makran division in addition to the installation of solar power plants in the coastal areas of Makran.
Solar power potential is abundant in Panjgur and other parts of Balochistan, while the Jhimpir Corridor (Sindh) produces between 600 MW and 700 MW of wind power.
On the third question, the minister said that the 1,214 MW Shanghai Electric Thar Coal project, which had been delayed by the previous PTI government, would also start production in the current fiscal year.
The gas crisis will get worse
Furthermore, during a press conference, the Minister of State for Petroleum, Musadik Malik, declared that suppliers were not responding to Pakistan's tender for spot LNG supply because, once moreover, the country had received no offers for 10 shipments.
Musadik said the Petroleum Division submitted a framework to relieve poor gas consumers by not increasing their gas tariff.
Regarding LNG spot purchases, the Minister said that they are constantly issuing tenders but no one is participating.
"Vendors don't respond and if one comes by mistake, they bid $40 per MMBTU.
"Today we opened tenders for the supply of 10 LNG shipments, but no one responded. Who will choose LNG at such high prices, who will bear the burden," the minister asked.
Musadik said that since the long-term agreement had not been signed by the PTI government, much-needed gas was no longer available in the country, even at a higher price, despite pleas from Frequent offers in the international market.
"Now I'm having meetings with delegations from the countries, to provide LNG futures, but they say why you didn't come sooner or where were you when the Europeans were signing the futures contracts," added the minister.
He said it was unfortunate that the previous government did not buy LNG when it was available at the reduced rate of $4 per MMBTU two years ago, which has now risen to $40. This means that LNG cargo that was available at $12.5 million two years ago now costs around $138 million. The PTI government paid no attention to buying the commodity at a cheaper price, he said.