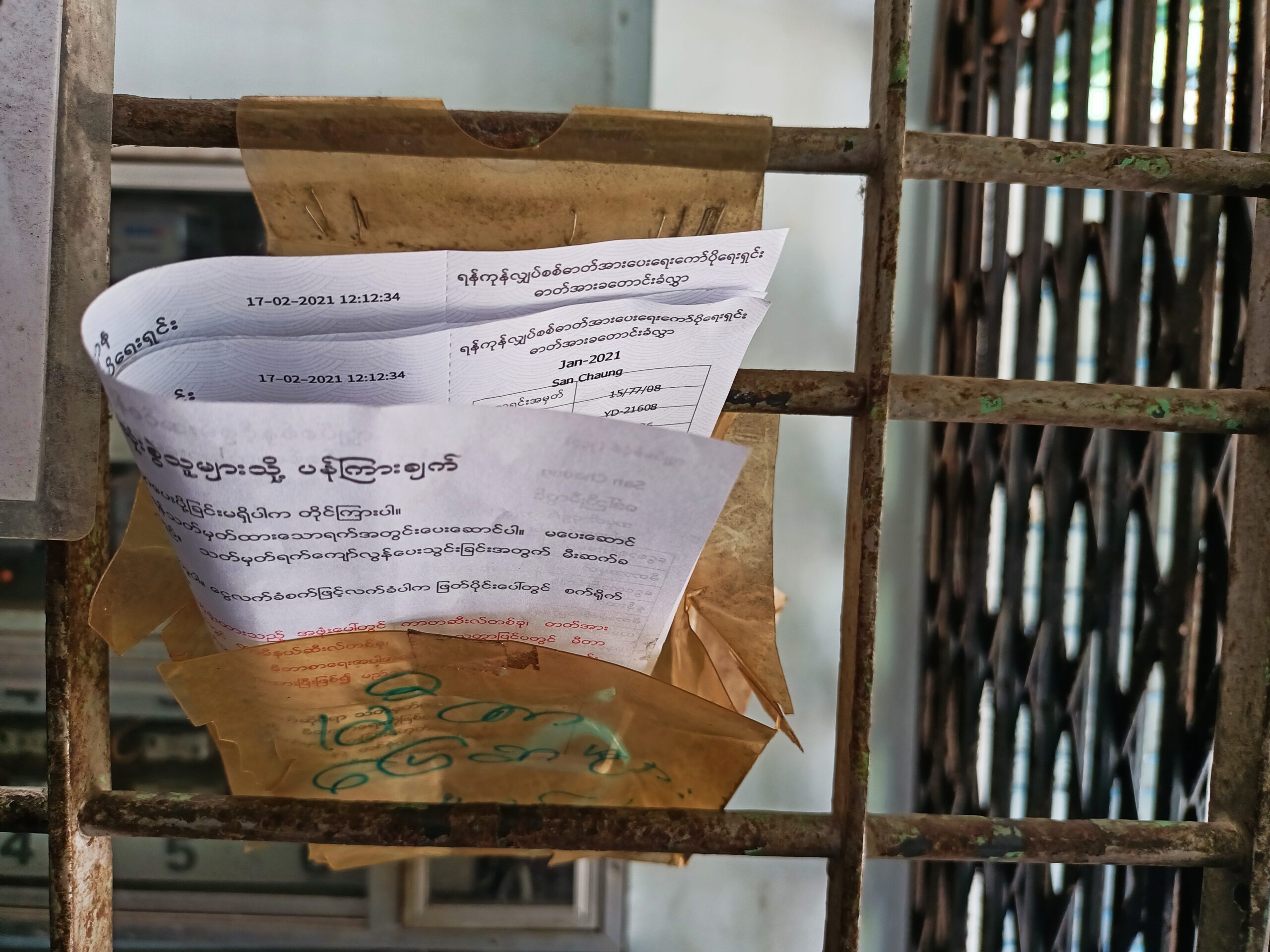 Electricity boycott ends in Yangon but lights up in the dry zone
While most residents of junta-held towns like Mandalay and Yangon have started paying their electricity bills, a fierce boycott continues in resistance strongholds in the Sagaing and Magway regions.
By FRONTIER
In November 2020, Daw May Oo* and her entire family were among the millions who helped Daw Aung San Suu Kyi and the National League for Democracy win a landslide re-election. When the military refused to accept the results and staged a coup, they did not hesitate to join in the mass protests.
"We joined all the strikes we could, including silent strikes and the boycott of bills and taxes paid to the Junta's State Administrative Council," the retired teacher said.
After the military responded to the mass protests with brutal violence, Yangon residents found creative ways to resist, including silent strikes, when shops in the city refused to open and refused to pay taxes or utility bills.
But at the end of October this year, May Oo's long boycott came to an end, when her house was suddenly plunged into darkness.
"At first I thought the whole neighborhood was in the dark," she said, but after talking to neighbors she soon realized her house had been singled out.
Faced with the prospect of living permanently without electricity, or paying her bill, May Oo finally gave in. She told Border her bill was 2 million kyat, or about $975 at the official exchange rate, and she saw many more at the township electricity office that day.
"We persevered until the end," she said.
Ko Min Kyaw*, an activist with the Yangon University Students' Union, said people in big cities now had no choice but to pay their bills or face severe reprisals.
"The military council controls Yangon and Mandalay," he said.
The junta has ordered electricity officials to step up bill collection efforts from April this year, according to Ko Tun Zaw*, an electrical engineer who has worked at the Yangon Electric Supply Corporation for more than five years. .
"We have to cut the electricity to the houses where they don't pay the bill. The cup was busiest in July," he explained. "It happened in almost every township in Yangon."
Residents of various townships in Yangon – including Lanmadaw, Latha, Sanchaung, Bahan and others – confirmed to Frontier that YESC officials cut off their electricity in July. The May Oo district seems to have been one of the last to disappear.
Like May Oo, Sanchaung resident Ko Win Aung relented after losing power in July.
"There were a lot of people like me who went to pay the bill because they were cut off," he said. "All the residents in my neighborhood have paid. We cannot live in the dark.
The Independent Economists of Myanmar (IEM) claimed in a report last July that the regime was losing about 1 billion kyat a month due to the public boycott. Although based on Border According to recent interviews in Yangon, this income has probably increased significantly recently, particularly because people are forced to repay their accumulated debts.
Currently, Tun Zaw said there are "very few" people refusing to pay their electricity bills in Yangon.
"I don't even keep the bill"
But elsewhere, the regime has still been unable to deploy its administration in the face of fierce armed resistance. Border found that residents of the dry zone of Sagaing and Magway regions, strongholds of the anti-coup People's Defense Forces, continue to refuse to pay in large numbers.
In Ayadaw township in Sagaing, resistance to the army remains strong, as PDFs wage guerrilla warfare against regime forces. In these remote areas, some villages only started receiving public electricity in 2020.
"About six months before the military coup, our village had electricity," Daw Aye Mi said. "After the coup, there was a strike and no one paid their electricity bill. electricity. No one dares to come and collect them because there is fighting in our region.
In Kalay Township, home to one of the region's largest towns, residents say the boycott has narrowed the urban-rural divide. "People in the urban area are paying their bills, but on the rural side they are not paying because the army cannot control the countryside," said a resident of Kalay town.
But in the city of Sagaing, many remain rebellious even in urban areas.
"Electricity staff send monthly bills to our homes. But we don't pay," said resident Daw Khin Thein*. "I didn't even keep the bill; we don't know where they are now.
The story is much the same in nearby Magway, also a hotbed of resistance.
"They don't even cut off the electricity in the urban area, and we don't know why," said Aung Soe*, a resident of Yenangyaung Township in Magway who has refused to pay since the coup.
Tun Zaw, the YESC employee in Yangon, said he understood his colleagues in parts of Sagaing and Magway "don't dare collect the bills" for fear of the ongoing conflict or being targeted for assassination.
"No one can guarantee your life if you go and get a bill," he said.
Residents of the dry zone say they feel more justified in not paying because the regime is struggling to maintain a constant supply of electricity, though this is partly caused by the massive boycott and resistance attacks on electrical infrastructure.
"Every day there is a power outage," said Aye Mi in Ayadaw township, adding that outages usually last about two hours.
According to the United States Chamber of Commerce, power generation increased from 3,711 MW in October last year to 2,665 MW in March this year. This decline is likely due to a combination of attacks on infrastructure, attacks on electricity personnel, public boycotts and general incompetence by the junta.
The junta's electricity ministry did not respond to requests for comment, but the regime previously blamed the power shortage on resistance attacks and a rise in gas prices affecting LNG projects.
Stack pressure
Resistance groups have targeted many branches of the junta's administration, from police stations to local government offices, and somewhat more controversially, electricity offices.
"The army pressures people to pay their electricity bills. The revolutionary forces are pressuring people to stop them from paying," explained student activist, Min Kyaw.
Although such attacks may have been initially effective in deterring payments to the scheme and still appear to be effective in Magway and Sagaing, they are controversial as they endanger public officials and ordinary civilians. In July last year, Khit Thit reported that two people were killed in a bomb attack on an electricity office in Mandalay – a civil servant and a woman paying her bill.
"When I come to the office, I don't feel safe," said Tun Zaw, the YESC employee.
Like many others, Tun Zaw joined the mass protests against the coup but did not join the mass strike by civil servants, as he felt compelled to continue working to support his family. family.
"My life was like an ocean of problems. I had no choice," he said.
Less controversial have been attacks on infrastructure, which do not bring the same level of risk to civilians. On the border of Kayah and Shan states, the PDF and the Karenni Nationalities Defense Force destroyed two electricity pylons connected to the Lawpita No. 3 hydroelectric power station in August last year.
"Yes, we destroyed the tower at that time," a PDF Pekon official confirmed. Border. The power station provides electricity to major cities, and Pekon PDF claimed at the time that the attacked tower was connected to the heavily militarized capital of Nay Pyi Taw.
"This power line is mainly used by the military. We attacked it to stop their administration," a KNDF spokesman said. Border.
While attacks on electricity infrastructure and offices appear to have decreased since last year, the KNDF spokesman said the group again attacked an electricity tower in Lawpita near the town of Moebye on November 3, as a battle raged for control of the city.
"Electricity is a main requirement for the SAC to run its administration," he said, declining to say whether there have been fewer attacks this year, or whether the KNDF would step up attacks inside the country. coming.
"They need electricity to produce weapons and communicate in support of their military strategy."
Khin Thein, from Sagaing city, said she would persist in her boycott until the army is no longer in power.
"Even if the regime does not fall, by not paying the electricity bill, we are showing our defiance," she said. "If our mother Suu's government returns to power, we will pay for it immediately," she added.